10 Best Restaurants in Nashville, Tennessee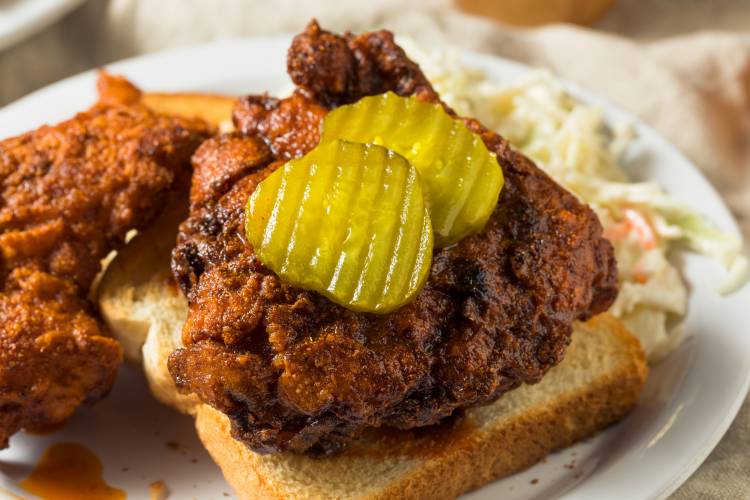 When it comes to Nashville, there's more than just honky tonks and East Nashville's vibrant atmosphere. This city is also renowned for its vibrant culinary scene, offering various restaurants and eateries to suit various tastes. If you're looking for places to eat in Nashville, here are ten highly acclaimed restaurants worth visiting.Nashville is known for its vibrant culinary scene, offering diverse restaurants and eateries to suit various tastes. Here are ten highly acclaimed restaurants in Nashville that are worth a visit
The Catbird Seat
Securing a reservation at this establishment is no longer the daunting task it once was (now available for prepayment on Tock, even for same-week dining). Yet, the experience remains as exclusive as ever. This open kitchen experience is one of the most high-end you could experience in Nashville. With local ingredients, this dining experience is one not to miss. 
Husk
Under the guidance of Executive Chef Ben Norton, Husk in Nashville remains steadfast in its commitment to honoring the land and the diligent farmers who tend to it. Anticipate a daily-changing menu that celebrates the abundance of vegetables in dishes that showcase their true essence. To complement the dining experience, a tantalizing array of bourbons and other whiskies stands ready, paying homage to the rich traditions of the region. Before and after your meal, indulge in this extensive selection, which perfectly complements Husk's heartfelt ode to the culinary heritage of the South.
Rolf and Daughters
At Rolf & Daughters, the culinary creations transcend traditional boundaries, drawing inspiration from a delightful blend of Italian, French, and Asian influences. While Rolf & Daughters undoubtedly excels as a choice for an intimate date night, it also serves as the perfect venue to impress your out-of-town extended family with its impressive culinary offerings. You're seated on a first-come, first-serve basis however, if you'd like to skip the wait, you can make a reservation online
Prince's Hot Chicken
Prince's Hot Chicken is undeniably the original pioneer of Nashville's iconic hot chicken, making it a must-visit destination when introducing your urban-dwelling friends to this spicy delicacy. With six distinct levels of heat to choose from, each packing a fiery punch, it's advisable for newcomers to start in the middle range to gauge their tolerance. The heat levels at Prince's are more like expressive moods rather than precise increments of spiciness. All their food is made to order, so you'll have to be patient as they cook your chicken.
City House
Pull up a chair and immerse yourself in pizza's inviting atmosphere and irresistible aroma. Tandy Wilson, the talented chef-owner, earned a well-deserved James Beard Award in 2016 for his imaginative blend of Italian and Southern cuisine. At City House, the culinary experience is all about sharing, and the thin-crust pizzas emerging from the brick oven are ideal for indulging in this communal dining style. While it may be tempting to skip dessert, resist it because Rebekah Turshen's delectable sweets are unforgettable.
Butcher & Bee
At Butcher & Bee, the menu offers an enticing array of Mediterranean and Middle Eastern-inspired dishes that never fail to captivate the taste buds.  Each bite creates a sense of community and keeps patrons returning for more. While the Bloody Marys spark lively conversations, the drink menu extends far beyond with an impressive selection of whiskeys, wines, beers, and ciders. Plus, for those seeking an outdoor dining experience, Butcher & Bee is a perfect choice, as its secluded back patio provides a tranquil oasis away from the bustling street noise.
Mas Tacos Por Favor 
Originally a beloved food truck, this now thriving restaurant dedicated to street-style tacos has recently expanded to accommodate its eager customers. While the lines that used to wind around the building have been alleviated, it's not uncommon to encounter a bustling crowd, a testament to the exceptional quality of the tacos served here. Among the standout offerings, the fried avocado taco deserves a special mention, showcasing the culinary ingenuity that has won the hearts of many. Additionally, the menu boasts delectable highlights such as the flavorful chicken tortilla soup, refreshing house-made agua frescas, invigorating palomas, and a lively and welcoming decor that adds to the overall experience. 
Big Al's Deli
Welcome to Big Al's Deli, a charming, family-run establishment with a cozy and unpretentious vibe. The vibrant tablecloths and shelves stocked with various grocery items add a touch of color to the ambiance. However, the most remarkable feature upon entering is the infectious smile of Alfonso Anderson, affectionately known as "Big Al." His genuine warmth and love for his customers, and people in general, radiate with each interaction.  One bite of his jerk chicken reveals the magic of a secret marinade that keeps the meat both succulent and tantalizingly spicy. In addition to this culinary gem, Big Al's menu offers a selection of other beloved favorites, such as hot chicken, shrimp and grits, and crispy fried catfish. 
Pastaria
Gerard Craft's wood-fired pizza outpost at One C1ty development offers mesmerizing views of the open kitchen and the city beyond. With a menu featuring delectable options like cacio y pepe pasta, perfectly crisped pizzas, and a delightful grapefruit, orange, olive, and tarragon salad, this spot caters to all tastes, including picky eaters. Prepare to indulge in a satisfying and flavorful experience at this captivating pizzeria.
Lou
Discover Lou, an all-day café helmed by Chef/Owner Mailea Weger, whose culinary journey spans from Los Angeles to Paris. With a focus on fresh, light dishes, Lou offers a small and thoughtful menu that changes with the seasons. Indulge in mouthwatering options like mussels in tomato-chorizo broth, fennel bacon, and roasted or jerk chicken. Weger's exceptional baking skills are showcased with an array of fresh breads and tempting cakes. At Lou, you'll find a warm and inviting atmosphere, perfect for enjoying brunch, lunch, or dinner. 
These are just a few of the standout restaurants in Nashville, but the city has a multitude of options to satisfy any palate. Whether you're seeking Southern comfort food, international flavors, or innovative culinary creations, Nashville's dining scene is sure to impress.
Live Like a Local In Nashville
 Take advantage of the best local meals when you stay in one of our luxury Nashville vacation rentals. Whether you're here with friends or family, our luxury homes in Nashville are perfect for your group for a truly local experience. Explore our collection of Nashville rentals and book to start planning today!