Best Golf Courses in Scottsdale Arizona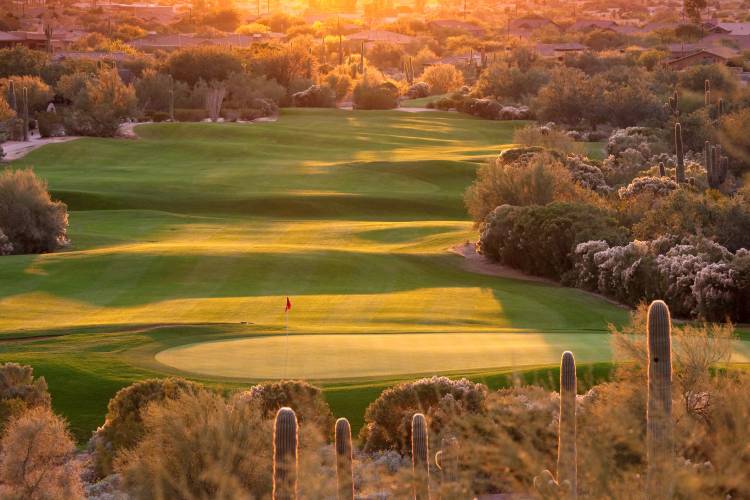 With over 200 golf courses in Scottsdale, AZ, an array of luxury resorts, and nearly perfect golfing weather conditions it's no surprise Scottsdale is known as The World's Finest Golf Destination. 
Discover our favorite golf courses below to plan the perfect Golf Getaway. 
Top golf courses in Scottsdale, AZ 
1. Troon North 
North Scottsdale's crown jewel! It features two courses, Monument and Pinnacle, that surround the northern side of the well-known landmark, Pinnacle Peak. Play in the footsteps of some of the world's most talented golfers. With incredible views, challenging play, and a truly unique ambiance, you will see why this is one of the ultimate golf experiences.  
Address: 10320 E Dynamite Blvd, Scottsdale, AZ 
2. We-Ko-Pa Golf Club
Just outside of Scottsdale in the Sonoran Desert, you will find two award-winning golf courses. The Cholla and Coore/Crenshaw courses were designed by Scott Miller. Escape to this amazing oasis that leaves behind roads, homes, and businesses. You are only surrounded by the unique desert landscape and your friends. Spot a Roadrunner for good luck on your round! 
Address: 18200 Wekopa Way, Fort McDowell, AZ 
3. TPC Scottsdale 
Home of the Waste Management Phoenix Open, these two courses were created from the dream of the PGA Tour Commissioner Deane Beman. The Stadium course and Champions course follow the Tour's intense quality standards and exclusive locations. Named "One of America's Best Courses" by Golfweek Magazine, you cannot miss making memories on these courses.  
Address: 17020 North Hayden Road, Scottsdale, AZ 85255 
4. Grayhawk 
Grayhawk features two unforgettable courses. The Raptor delivers traditional challenges, and the Talon course offers a desert-style test of golf. This course was built for large groups and corporate outings. Be sure to break for lunch at one of their delicious on-site restaurants.  
Address: 8620 E Thompson Peak Pkwy, Scottsdale, AZ 85255 
What is the best time of the year to play golf in Arizona?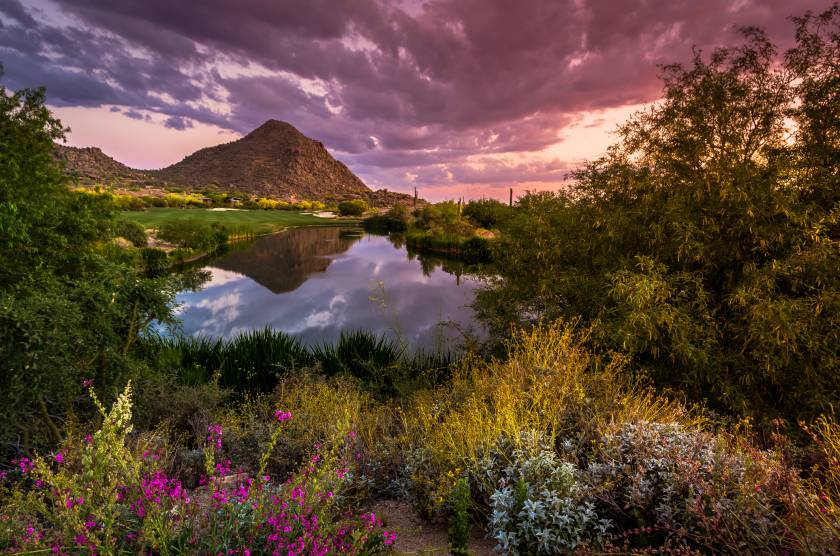 The best time of year to play golf in Arizona is typically in the winter months, from November to March. During this time, the weather is mild and comfortable, with temperatures ranging from the mid-60s to mid-70s Fahrenheit. This makes for perfect conditions for a round of golf - not too hot or too cold. 
In the summer months, from June to August, the weather in Arizona can be extremely hot, with temperatures often exceeding 100 degrees Fahrenheit. Many golf courses may offer discounted rates during this time.   
In the spring and fall months, from April to May and September to October, the weather in Arizona can be more temperate, but there is a higher chance of rain and wind. However, if you prefer cooler temperatures and can handle a bit of unpredictability in weather, these months can also be a great time to play golf in Arizona. 
Overall, the winter months are the most popular and considered the best time to play golf in Arizona due to the mild weather and comfortable playing conditions. No matter what season you plan on visiting Arizona, be sure to reach out to our concierge team to help book you a tee time for your visit! 
Where do the pros play in Scottsdale? 
Scottsdale is home to some of the best golf courses in the country, so it's no surprise that many professional golfers choose to play and practice in the area. Here are a few of the top courses in Scottsdale where golf pros are known to play: 
TPC Scottsdale
TPC Scottsdale is a championship golf course that has hosted the PGA Tour's Waste Management Phoenix Open for over 30 years. The course features two 18-hole courses, the Stadium Course and the Champions Course, both of which are known for their challenging holes and stunning desert views. Many professional golfers play and practice at TPC Scottsdale throughout the year, making it a great spot for golf enthusiasts to catch a glimpse of their favorite players. 
Grayhawk Golf Club
Grayhawk Golf Club is a premier golf destination that boasts two championship courses, the Talon Course and the Raptor Course. The courses were designed by renowned golf architects Tom Fazio and David Graham, and have hosted numerous professional events, including the PGA Tour's Frys.com Open. Golf pros like Phil Mickelson and Bubba Watson have been known to play and practice at Grayhawk, making it a top spot for golf enthusiasts to visit. 
Whisper Rock Golf Club
Whisper Rock Golf Club is a private golf club that is popular among professional golfers due to its exclusive, members-only policy and top-rated courses. The club has two courses, the Lower Course and the Upper Course, both of which were designed by Phil Mickelson and architect Gary Stephenson. Many professional golfers, including Mickelson himself, have memberships at Whisper Rock and play and practice at the club throughout the year. 
While it's not guaranteed that you'll see a pro golfer during your visit to Scottsdale, visiting these top courses might just give you the chance to catch a glimpse of a famous golfer or two.  
Looking for a Luxury Home for your Scottsdale Golf Vacation?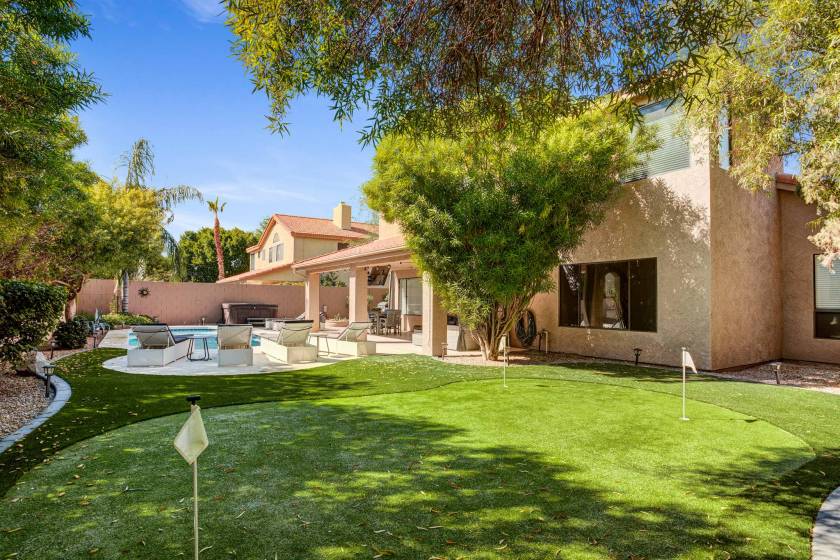 Start planning your next Scottsdale vacation with ABOVE VACATION RESIDENCES! We host a variety of luxury vacation rentals across Scottsdale that is sure to make your next trip out here a blast! Browse our Scottsdale Vacation Rentals